Return to Previous Page
Details
You are buying Coenzyme Q10 (also known as ubiquinone, ubidecarenone or CoQ10) which is an oil-soluble substance is present in most eukaryotic cells, primarily in the mitochondria. CoQ, or Q10 is a 1,4-benzoquinone, where Q refers to the quinone chemical group, and 10 refers to the number of isoprenyl chemical subunits in its tail. It is a component of the electron transport chain and participates in aerobic cellular respiration, generating energy in the form of ATP. Ninety-five percent of the human body's energy is generated this way. Therefore, those organs with the highest energy requirements—such as the heart, liver and kidney—have the highest CoQ10 concentrations.

There are three redox states of coenzyme Q10: fully oxidized (ubiquinone), semiquinone (ubisemiquinone), and fully reduced (ubiquinol). The capacity of this molecule to exist in a completely oxidized form and a completely reduced form enables it to perform its functions in the electron transport chain and as an antioxidant respectively.

Supplementation of CoQ10 may help support a healthy metabolism.

*NOTE: These statements have not been evaluated by the Food and Drug Administration.
This product is not intended to diagnose, treat, cure or prevent any disease.
Supplement Facts
Disclaimer: This scientific independent research is provided by Aisle7 and is for informational use only. PureBulk provides this information as a service but does not endorse it. Likewise, Aisle7 does not recommend or endorse any specific PureBulk products.
Coenzyme Q10
Also indexed as:CoQ10, Ubiquinol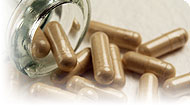 Coenzyme Q10 (CoQ10) is also called ubiquinone, a name that signifies its ubiquitous (widespread) distribution in the human body. CoQ10 is used by the body to transform food into adenosine triphosphate (ATP), the energy on which the body runs.
Reliable and relatively consistent scientific data showing a substantial health benefit.
Contradictory, insufficient, or preliminary studies suggesting a health benefit or minimal health benefit.
For an herb, supported by traditional use but minimal or no scientific evidence. For a supplement, little scientific support.
Our proprietary "Star-Rating" system was developed to help you easily understand the amount of scientific support behind each supplement in relation to a specific health condition. While there is no way to predict whether a vitamin, mineral, or herb will successfully treat or prevent associated health conditions, our unique ratings tell you how well these supplements are understood by the medical community, and whether studies have found them to be effective for other people.
For over a decade, our team has combed through thousands of research articles published in reputable journals. To help you make educated decisions, and to better understand controversial or confusing supplements, our medical experts have digested the science into these three easy-to-follow ratings. We hope this provides you with a helpful resource to make informed decisions towards your health and well-being.
This supplement has been used in connection with the following health conditions:
Used for
Amount
Why

Angina

150 mg daily

[3 stars]

CoQ10 contributes to the heart's energy-making mechanisms. Angina patients given CoQ10 have experienced greater ability to exercise without chest pain.

Hypertension

100 mg twice per day

[3 stars]

Taking coenzyme Q10 may have a significant impact on blood pressure.

Athletic Performance

Refer to label instructions

[2 stars]

Strenuous physical activity lowers blood levels of coenzyme Q10 (CoQ10). A few studies have reported that CoQ10 supplementation benefitted some trained athletes.

Cardiomyopathy

100 to 150 mg daily

[2 stars]

Most studies using coenzyme Q10 in treating cardiomyopathy have shown positive results, including improved quality of life, heart function tests, and survival rates.

Congestive Heart Failure

0.9 mg daily per pound of body weight with a doctor's supervision

[2 stars]

CoQ10 enhances the production of energy in the heart muscle and has been reported to help people with CHF, sometimes dramatically.

Fibromyalgia

Refer to label instructions

[2 stars]

In a preliminary trial, headaches and overall symptoms in people with fibromyalgia significantly improved after supplementing with coenzyme Q10.

Gingivitis

50 to 60 mg daily

[2 stars]

Supplementing with CoQ10 may reduce gingivitis symptoms and repair damaged gum tissues.

Halitosis and Gum Disease

50 to 60 mg daily

[2 stars]

Coenzyme Q10 is often recommended by doctors to help prevent and treat periodontitis.

Macular Degeneration
(Acetyl-L-Carnitine, Fish Oil)

Follow label directions

[2 stars]

In one study, supplementing with a proprietary blend of acetyl-L-carnitine, fish oil, and coenzyme Q10 improved visual function in people with macular degeneration.

Migraine Headache

100 to 150 mg daily

[2 stars]

In a preliminary trial, supplementation with coenzyme Q10 for three months reduced the average number of days with migraine headaches by 60%.

Neuropathy

Refer to label instructions

[2 stars]

For people with diabetes and neuropathy, the antioxidant coenzyme Q10 may improve nerve function and ease uncomfortable symptoms by 50%.

Preeclampsia

200 mg per day

[2 stars]

In a double-blind study at women who were at high risk of developing preeclampsia, supplementing with coenzyme Q10 reduced the incidence of preeclampsia by 44%.

Type 2 Diabetes

120 mg daily of a standardized herbal extract

[2 stars]

Supplementing with CoQ10 may improve blood sugar metabolism.

Alzheimer's Disease
(Iron, Vitamin B6)

Refer to label instructions

[1 star]

A combination of coenzyme Q10, iron (sodium ferrous citrate), and vitamin B6 may improve mental status in people with Alzheimer's disease.

Chronic Obstructive Pulmonary Disease

Refer to label instructions

[1 star]

CoQ10 levels have been found to be low in people with COPD. Supplementing with CoQ10 improved blood oxygenation, exercise performance, and heart rate in one study.

HIV and AIDS Support

Refer to label instructions

[1 star]

In one trial, people with HIV who took CoQ10 experienced no further infections for up to seven months, and counts of infection-fighting white blood cells improved in some cases.

Insulin Resistance Syndrome

Refer to label instructions

[1 star]

Coenzyme Q10 may improve insulin sensitivity in people with components of IRS.

Male Infertility

Refer to label instructions

[1 star]

CoQ10 is a nutrient used by the body to produce energy. While its exact role in the formation of sperm is unknown, even small amounts appear to increase sperm count and motility.

Parkinson's Disease

1,200 mg a day

[1 star]

In a double-blind trial, coenzyme Q10 given to people with early Parkinson's disease significantly slowed the progression of the disease.

Tinnitus

Refer to label instructions

[1 star]

For people who are deficient in CoQ10, supplementing with the nutrient may improve tinnitus.

Type 1 Diabetes

Refer to label instructions

[1 star]

Supplementing with CoQ10 may improve blood sugar metabolism.
Copyright © 2014 Aisle7. All rights reserved. Aisle7.com
Learn more about Aisle7, the company.
Learn more about the authors of Aisle7 products.
The information presented in Aisle7 is for informational purposes only. It is based on scientific studies (human, animal, or in vitro), clinical experience, or traditional usage as cited in each article. The results reported may not necessarily occur in all individuals. Self-treatment is not recommended for life-threatening conditions that require medical treatment under a doctor's care. For many of the conditions discussed, treatment with prescription or over the counter medication is also available. Consult your doctor, practitioner, and/or pharmacist for any health problem and before using any supplements or before making any changes in prescribed medications. Information expires June 2015.
Recipe
Coconut Q10 (Coenzyme Q10 & Coconut Oil Recipe for Increased Bioavailability)
Heat 16 fluid ounces coconut oil to between 100°F (38°C) and 110°F (43°C) in a sauce pan on the stove.
Add 25 grams Coenzyme Q10 powder. The powder will melt instantly and dissolve into the hot oil.
Stir for one minute.
Remove from heat and allow to cool to between 80°F (27°C) and 90°F (32°C).
Pour mixture into a rigid plastic or glass resealable food storage container and allow to cool to room temperature.
At below 76°F (24.4°C) coconut oil will turn solid, but that's alright.
The blended oil should be kept sealed but refrigeration is optional.
A level half teaspoon of this oil, liquid or solid, will net approximately 130 milligrams Co-enzyme Q10, which is in the usual range of a commonly recommended serving size for this most bio-available form of CoQ10.
Do not exceed a serving size of 1 level teaspoon (260 milligrams) of the blended Coenzyme Q10 coconut oil per day, except under the care and supervision of a physician.
Take your CoQ10 preferably with a fatty food at meal time. You may spread it on toast, or add it to any food like you would as if it were butter.
This 16 fluid ounce recipe will net 96 level teaspoons, or 192 level 1/2-teaspoons, enough highly bio-available coconut oil dissolved Coenzyme-Q10 for more than a 6 month supply.
You might also be interested in: